CenTraS

Centralized Tracking System

The CenTraS web-based application implements the following features:
Placement and tracking of orders
Calculation of material consumption for product manufacturing
Generation of unique products including weight, material type etc
Production control with the use of bar codes
Generation and printing of invoices
Generation and printing of reports based on various criteria
Storage and lookup of contact information for businesses and private individuals
Advanced search for required information (contacts, materials, products, orders etc.) in the generated database
This application is developed for jewelry production industry. However, it can be customized for other production types at customer's request. To use this application, you need the following components:
Windows 2000/XP
Microsoft IIS
Microsoft SQL Server
Bar Code reader
Bar Code printer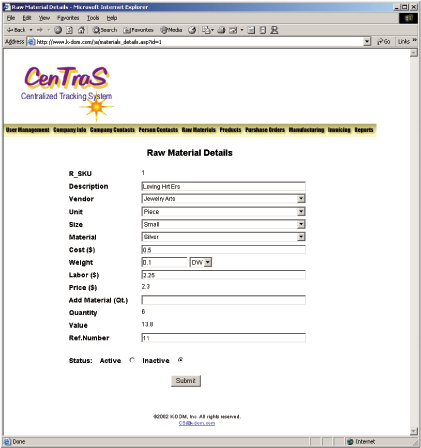 DISMED

Analysis of tomographic images

The "DISMED" module is intended for definition of geometric parameters in tomogram or X-ray characteristic zones and makes it possible to perform the following operations:
Calculation of real scale in which this tomogram photo is made
Determination of the threshold value separating soft tissues from hard ones
Edge analysis and area identification
Axis of symmetry finding in the given area
Estimation of distances between marked curves
Search for conventional symmetric points relative to the found axisi
Determination of required distances between characteristic zones in tomography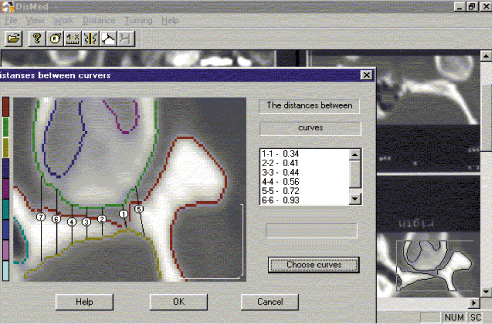 Modeling of Dental Implant Systems

The tooth-implant-parodont model was generated and methods were developed to calculate the deflected mode of the jaw bone. Calculation results make it possible to select appropriate construction type of the implants themselves as well as dental prostheses supported by the implants.